Report by Andrew Wright and Freddie Coates
Lewis Hamilton used all his guile and experience to take victory at a wet and bizarre Turkish Grand Prix to seal his seventh world drivers title in Formula 1.
It was not an easy race but Hamilton survived the unique conditions to complete one of his best ever victories.
Sergio Perez had his first podium of the year in second and third place went to his replacement for 2021, Sebastian Vettel.
Hamilton was nowhere near being the favourite going into the race for arguably the first time in 2020 after wet conditions in qualifying proving the Mercedes was not the best car in the wet.
Rain before the race threw the advantage towards Racing Point and Red Bull who were starting ahead and certainly the race was in their hands for the majority.
The start was remarkably clean as the drivers wrestled their cars off the line. The Racing Points pulled away from the slow-starting Verstappen who almost stalled and dropped down to fifth.
Hamilton and Vettel were the grateful recipients, jumping up to third and fourth while Ocon and Bottas spun round and ruined their good starts.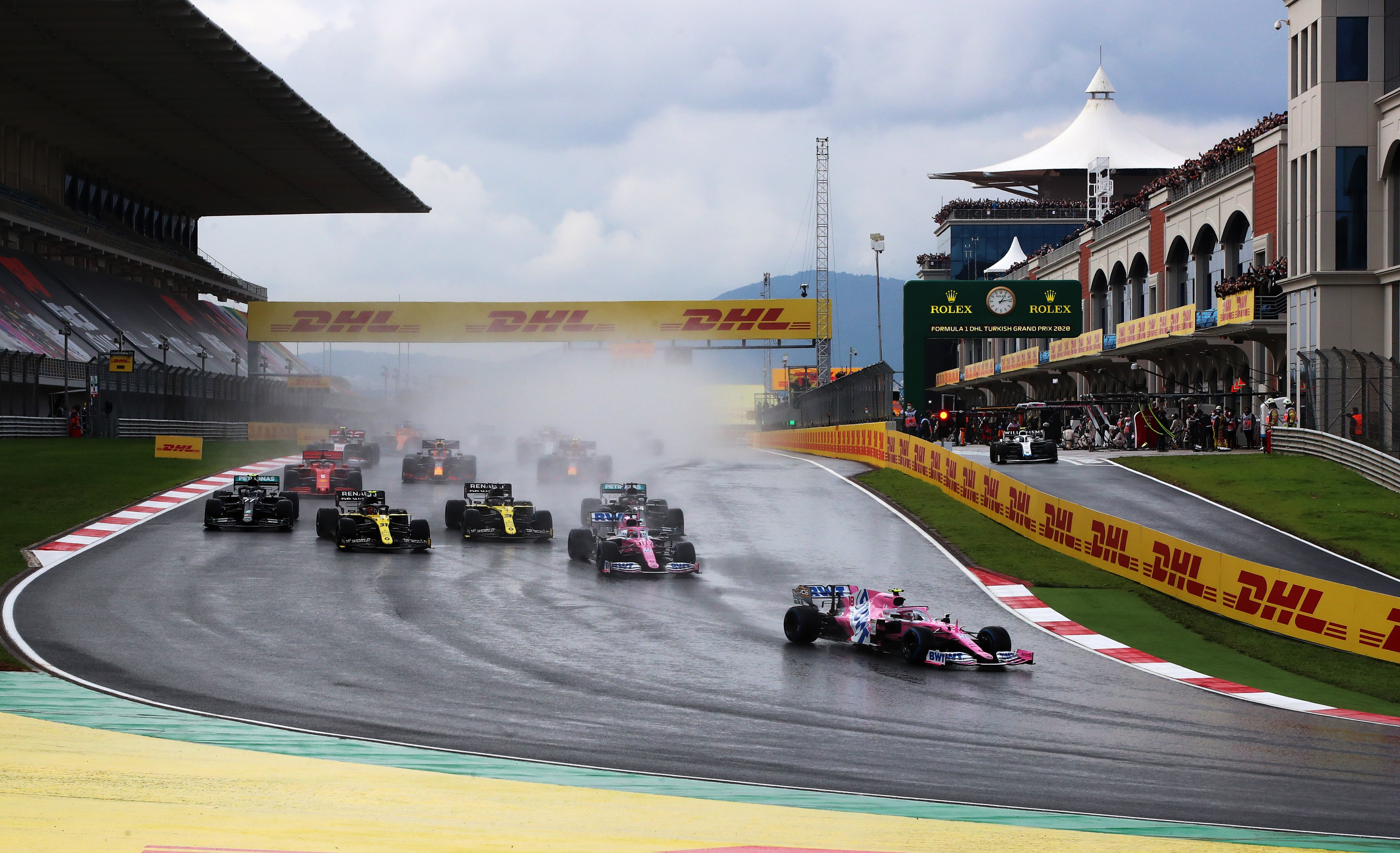 But despite the good start, Hamilton was struggling to get heat into his wet tyres and fell to sixth when he ran wide just a few corners later.
The Racing Points proved their qualifying pace was no fluke as Stroll opened up a six-second gap to his team-mate with Vettel a further nine seconds back.
It wasn't long before the track was ready for intermediate tyres and Vettel and Hamilton pitted at the end of the eighth lap, hoping to gain an early march on their rivals ahead. And Racing Point reacted immediately, bringing Stroll in the very next time round to cover any huge gains in time.
But Verstappen held on to his extreme wets, saying: "Let's not switch to inters too quickly."
Verstappen pitted a few laps later and was able to jump Vettel with the overcut but the Racing Point's were still ahead with Stroll's gap growing.
Much to the credit of the drivers, it wasn't until lap 13 that we had our first retirement as Antonio Giovinazzi's Alfa Romeo gave up on him. A VSC was called to clear the car helping Stroll keep his lead.
Upon resumption, Hamilton immediately went on the attack but locked his brakes which allowed Alex Albon to sneak past into fifth. The Red Bull driver then made quick work of Vettel to move into fourth just as Verstappen was pressuring Perez for second.
Verstappen tried his luck up the inside of turn 11 but that threw him into the turbulent wake of Perez and into a spin. The Dutchman was fortunate not to collide with any barriers, but he dropped behind the Vettel-Hamilton squabble and was forced to pit after flat-spotting his intermediate tyres that were working so well to that point.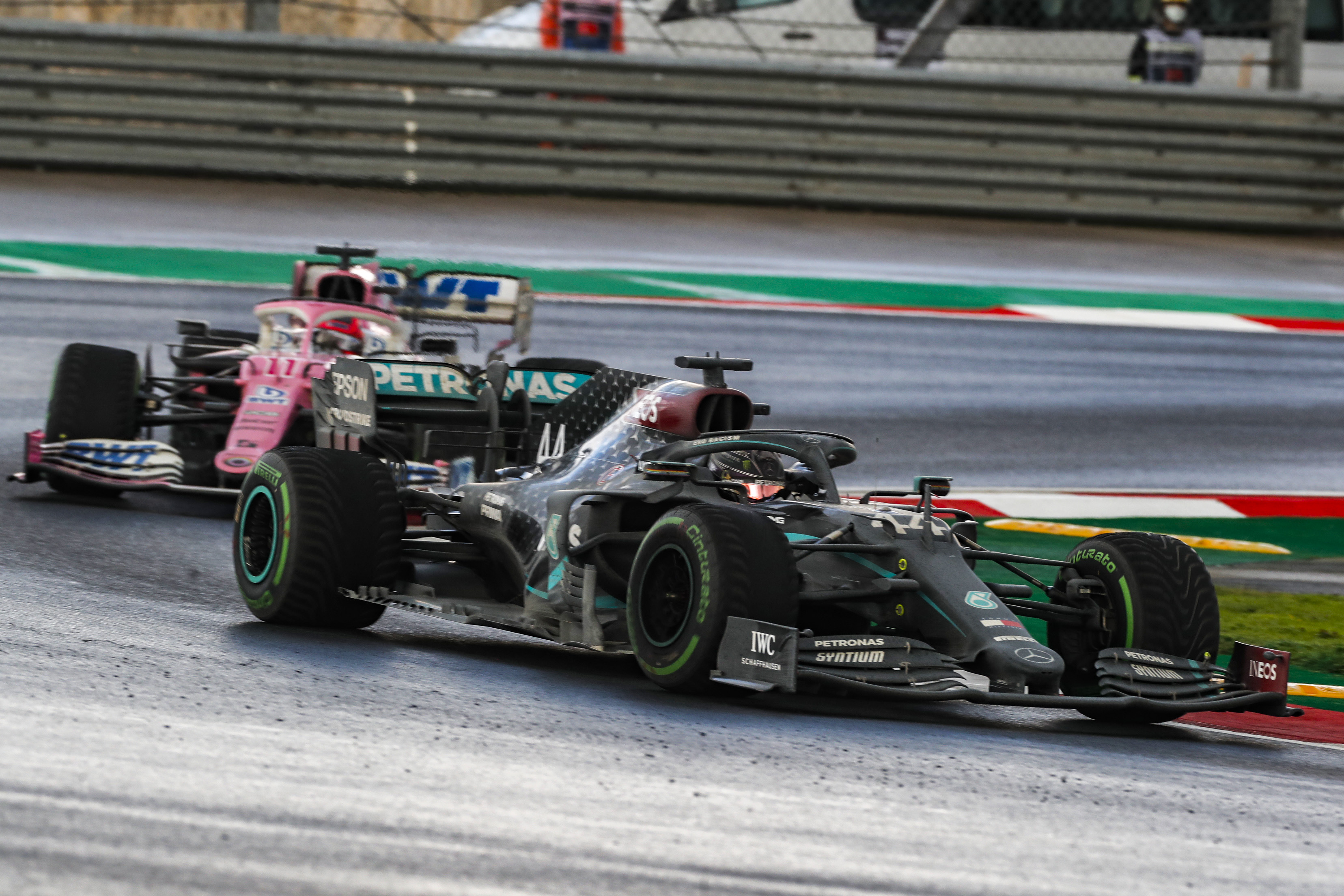 Albon then looked to be in the hot seat for victory as he closed on Perez, who in turn was closing on Stroll.
Approaching the halfway point, Hamilton continued to be held up by Vettel, but in fifth position, he was on course to claim his seventh world title with his team-mate struggling down in 17th.
But as the pace of the Ferrari quickened, the top three were stalling as the intermediate tyres began to overheat on the rapidly drying surface. The teams were desperate to make it to the transition point for slicks, but with the inherent lack of grip on the newly laid track, Ferrari gambled that this point wouldn't come and pitted Leclerc on lap 32 for another set of the green-marked tyres.
The Scuderia were so confident in their decision that they pitted Vettel the very next lap which promoted Hamilton to fourth. And fourth became third on lap 34 when Albon spun and was forced to box.
Perez was closing in on Stroll and reduced the gap to under a second while Hamilton behind was urging his race engineer not to bring him in.
And after Stroll received the call to pit, Hamilton used the DRS to blast past Perez on lap 37 and into the lead.
He quickly built a five-second advantage while his rivals were locked in a battle behind. Stroll defended too aggressively from Vettel and ended up dropping a place to not one, but two Ferrari's, before Leclerc forced his was past Vettel and into fourth on lap 41.
Leclerc continued to progress at a rate of knots and passed Verstappen for third on lap 44 before the Dutchman took to the pits for the third time.
But for all the drama behind, it was smooth sailing for the soon-to-be seven-time world champion. Such was Hamilton's dominance up front that on lap 46 of 58, he lapped his team-mate who struggled all race to find any shred of performance. Lap 52 and the McLaren of Sainz was up to fifth ahead of the two Red Bulls and fast approaching the Ferrari of Vettel.
Hamilton's gap grew and grew as his ancient intermediate tyres became slick. Mercedes called him for a late pitstop to be safe but he stayed out in his groove and it was the right decision avoiding the squabble behind him. The only obstacle he met was a stubborn Valtteri Bottas refusing to be lapped but Hamilton made swift work of his struggling teammate.
Perez in second, having matched Hamilton's strategy had been caught by the Ferraris. Leclerc lunged him at Turn 12 but went too far and allowed Vettel up to third to take his first podium of the year.
Hamilton avoided that fight and probably a lost race by controlling his bald inters magnificently to take a beautiful victory to crown him world champion.
What did you make of Lewis Hamilton's Turkish GP triumph? Let us know in the comments or reach out to us on Twitter.